Biscuits. Gravy. Fried chicken.
This heart-stopping trinity was all that was on my mind when I visited Melbourne earlier this year. My destination? Rockwell and Sons in Collingwood, home of
fried chicken Wednesdays
and 2014 winner of
best burger in Australia
.
Rockwell and Sons in Collingwood
There are no bookings at Rockwell and Sons but I walked in with no problems at lunchtime on a Saturday. The official fried chicken, biscuits and gravy combo is only available on Wednesday nights ($60 for a whole brined and fried buttermilk chicken with biscuits, devilled eggs and three sides) but if you ask nicely, they may just oblige you with this:
Buttermilk biscuits, Sawmill sausage gravy and poached eggs $16 with fried chicken $6
The kitchen is happy to add a side of
fried chicken
($6) to their standard dish of
buttermilk biscuits, Sawmill sausage gravy and poached eggs
. It's not chicken on the bone, but it is a juicy chicken thigh fillet, the star of their fried chicken sandwich ($12).
Can we talk about the buttermilk biscuits? They're blow-your-mind amazing. Imagine a fluffy scone with a super crisp meat pie pastry top and you're halfway to realising the magic of this Southern genius. There's a chewy crunch to the shell yet the innards are wondrously fluffy. Add lashings of sausage gravy, two runny poached eggs and fat slices of golden fried chicken and you've got yourself one helluva trip to eye-closing bliss.
Bar at Rockwell and Sons
The Town Mouse
The Town Mouse in Carlton
I was in Melbourne for the
Melbourne Food & Wine Festival
for four days, and even though I had a sponsored itinerary from Tourism Victoria, I used every spare minute to eat at all the hotspots I'd been eyeing wistfully on Instagram.
The Town Mouse
was up there.
Complimentary sourdough with seaweed butter
You'll find the Town Mouse sitting on its own in a residential street in Carlton, just behind the main Lygon Street strip. There's a cosy small-bar feel to the place with seating within the main bar area or in the enclosed and leafy courtyard out the back.
Goat's cheese profiterole with caraway, thyme and our honey
$3
The
complimentary sourdough with seaweed butter
is a generous (and delicious) gesture and the snacks are impressive too. The
goat's cheese profiterole
might only be three dollars but it's an elegant construction, filled with whipped goats cheese, dusted with caraway and thyme and set on a bed of honey from their own urban beehive.
Smoked duck liver parfait with pickled cucumber and crisp potato
$3
And there's a beautiful sense of refinement with the
smoked duck liver parfait
too, a beautifully piped ball of smooth and silky parfait set on a plank of deep-fried paper-thin potato.
Venison tartare with pickled radish, nashi pear, ginger and wasabi
$15
The
venison tartare
is a standout too. Hand-chopped venison is tumbled with tiny cubes of pickled radish, wafer-thin slices of nashi pear and a snowfall of
wasabi powder
, made from tapioca flour and wasabi oil.
Bread crumbs toasted in burnt butter
add crunch and at the bottom is a soft pool of ginger creme. It's textural, light and zingy against the mild gaminess of venison.
Jimmy Grants
I walked straight from The Town Mouse to
Jimmy Grants
, a few blocks away in Fitzroy. Jimmy Grants is brought to you by George Calombaris, a casual eat-in restaurant that focuses on souvlaki or souva.
Jimmy Grants in Fitzroy
There's no signage on the outside except for a blue cross, but you can smell the tantalising whiff of charcoal from Smith Street.
Dining space chairs and tables
The dining room inside could pass for a trendy cafe with blue and white stools, bench seating, wall murals and a view into the open kitchen.
Mr Papadopoulos souva
$9.50
Lamb, mustard aioli, chips, onions and parsley
The classic Mr Papadopoulos souva is a revelation. Warm, fluffy and freshly grilled pita bread is stuffed with tender chunks of lamb, mustard aioli and a handful of chips for extra crunch. It's crazy good and a testament to the beauty of simple food done really well.


Monsieur Truffe in Collingwood
Keep heading along Smith Street and you'll stumble onto
Monsieur Truffe
, a handy detour if you're in the mood for something sweet. You can dine in with a mug of hot chocolate and a few artisan treats or do like I did, and scoop up a handful of edible Melbourne souvenirs for the trip home.
Rocky road
Coconut ice
Chocolate caramelised hazelnuts
These
chocolate caramelised hazelnuts
were addictive, as were the
orangettes
, French candied orange peel dipped in 70% dark chocolate and dusted in alkalised cocoa powder.
Bean to Bar single origin dark chocolates
Gelateria Primavera at Spring St Grocer
Gelato fans queuing at Gelateria Primavera
A little more walking gets to you to
Spring Street Grocer
. The walk-in cheese room in the basement is pretty impressive and I ended up with a hunk of raw milk Alpine cheese from Switzerland for some late night snacking.
At the entrance to the store is
Gelateria Primavera
, constantly crowded with customers eager for a gelato fix. There's no colourful cabinet display like Gelato Messina but there is a brown paper banner with the day's gelato flavours, a dizzying menu that might include cardamom, saffron and pistachio; avocado and goat's curd or salted caramel swirl.
Yoghurt, thyme honey and walnut gelato; pistachio;
and white chocolate, bergamot and blueberry
For $6.50 you can have two or three different flavours jammed into a cup or cone. I had the yoghurt, thyme honey and walnut gelato (tantalisingly aromatic), pistachio (rich and nutty) and white chocolate, bergamot and blueberry (fruity and creamy but not overly sweet).
The gelato lives up to its reputation. There's a lushness to each mouthful, its super smooth and creamy texture worth savouring slowly.
Scooping gelato from the covered metal tubs
Snapshots of Melbourne
Mural dedicated to Adriano in Fitzroy
Melbourne is a haven of alleyways and street art. They add such a welcome burst of vibrancy that I couldn't help but try and capture.
Fitzroy
Murals and sneakers on power lines in Fitzroy
Teenage Mutant Ninja Turtle and pizza in Fitzroy
Colour coordinated garbage bins and graffiti mural in a laneway off Little Bourke Street
FAD Gallery Art and Food mural
Busker in Flinders Lane against graffiti backdrop
Padlocks of love on Southbank bridge
Ferdydurke
Ferdydurke in Tattersalls Lane
I managed to meet up with Melbourne food bloggers
Sarah
and
Adrian
for a quick drink on the Friday night. We climbed the stairs up to Ferdydurke, one of the city's hip small bars.
Carlton! On tap! Best tap beer sign EVER
My heart was won when I saw the Carlton beer tap sign...
Carlton from Fresh Prince of Bel Air
!
Making a Lolita
$12
Aperol, peach and lemon topped with Ferdy Fizz
They have a compact but tasty cocktail list. The place was pumping with office workers by 6pm.
Sloe gin sour and Lolita cocktails
Queen Victoria Market
Polish deli at Queen Vic Market
You can't visit Melbourne without squeezing in a visit to Queen Victoria Market either. It's a huge sprawling space filled with stalls selling everything from fresh fruit and produce and deli meats to clothes and toys.
Mountain of Italian white anchovies
Pine mushrooms
Australian grown garlic
King Island quartz garlic
Red pak choi
Chocolates at Koko Black
Dark chocolate with salted caramel ganache
Walnut milk chocolate
Hoy Pinoy Filipino barbecue and street food stall at Queen Vic Markets
My nose led me to
Hoy Pinoy
, a Filipino barbecue and street food stall that drew me closer with its trails of charcoal smoke.
Chicken skewers cooking over charcoal
It's simple fare here: skewers of chicken, stuffed baby squid, prawns and baby octopus cooked over glowing coals of charcoal.
Barbecued baby octopus
Stuffed baby squid on the barbecue
Fanning the barbecue old-skool style with a torn bit of cardboard
Inihaw na manok barbecue chicken skewers
$6 each
Serving up the chicken skewers in banana leaves
$10 for 2
Inihaw na pusit barbecued stuffed squid
$8 each
The chicken skewers were the most popular item here but I went with the inihaw na pusit or
barbecued stuffed squid
. It's stuffed with finely diced tomato and onion and cooked on a skewer over charcoal.
It's basted with a sweet soy sauce dressing, a perfect pairing with the super tender squid that has a smoky caramelised char from the grill.
Inihaw na pusit barbecued stuffed squid
American Doughnut Kitchen
American Doughnut Kitchen van at Queen Vic Markets
You knew this was coming, didn't you? The
American Doughnut Kitchen
is a Queen Vic Market institution, serving up doughnuts to the masses since 1950. They pump out doughnuts non-stop here. On the Sunday when I visited the queue constantly numbered a dozen or more people.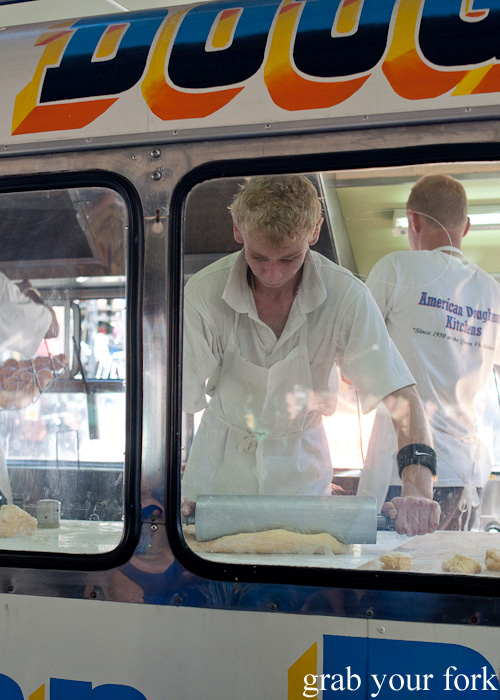 Rolling out the dough with a giant rolling pin
They manage to squeeze at least four staff into the van, all of whom are working constantly to keep up with demand. It's mesmerising just watching the entire doughnut production process from start to finish.
Doughnuts ready for proofing
Doughnuts waiting for the fryer
Doughnuts loaded onto the deep-fryer tray
Flipping doughnuts in the fryer
Piping hot doughnuts being injected with raspberry jam
Jam doughnut - why you so sexy?!
Waiting for doughnuts
Super efficient production means the queue moves quickly. Within two minutes I've got a paper bag filled with piping hot sugar-crusted raspberry-filled donuts.
Hot fresh raspberry jam doughnuts
$1.10 each
I'll confess that I'm not usually a jam doughnut person. The jam to doughnut ratio is usually way off, but here they're much smaller which gives a more even spread of raspberry jam with every bite.
There a few things better in this world than a fresh hot doughnut. There's a pillowy springiness to the dough and a generous splodge of raspberry jam in the middle. The coating of sugar on the outside will end up all over your lips but you wouldn't want it any other way, right?
Hot, fluffy, jammy and crusted with sugar. Perfect.
Grab Your Fork travelled to Melbourne as a guest of Tourism Victoria for the Melbourne Food & Wine Festival 2014. All locations in this post were independently visited and personally paid for.
American Doughnut Kitchen
Queen Victoria Market at the top of the I shed, Queen Street
Tel: +61 (0)432 763 741
Opening hours:
Tuesday and Thursday 6am - 2pm
Friday 5am - 4pm
Saturday 5am - 3pm
Sunday 6am - 4pm
Closed Mondays and Wednesdays
~~~
Ferdydurke
31 Tattersalls Lane (corner of Lonsdale Street), Melbourne
Tel: +61 (03) 9639 3750
Open daily 12pm - 1am
~~~
Gelateria Primavera at Spring Street Grocer
157 Spring Street, Melbourne
Tel: +61 (03) 9639 0335
Opening hours:
Monday to Friday 7am - 12 midnight
Saturday and Sunday 9am - 12 midnight
~~~
Hoy Pinoy Filipino BBQ and Streetfood
Check their Facebook page for market and pop-up locations
~~~
Jimmy Grants
113 Saint David Street, Fitzroy, Melbourne
Open daily 11am - 10pm
Also open at
Rue & Co Outlet, 90 Collins Street, Melbourne
Emporium, 287 Lonsdale Street, Melbourne
~~~
Monsieur Truffe
90 Smith Street, Collingwood, Melbourne
Tel: +61 (03) 9416 3101
Opening hours:
Monday to Friday 8am - 4pm
Saturday 8.30am - 5pm
Sunday 9.30am - 5pm
Also open at 351 Lyon Street, East Brunswick, Melbourne
~~~
Queen Victoria Market
Corner of Elizabeth and Victoria Streets, Melbourne
(enter from Elizabeth Street, Victoria Street, Peel Street or Therry Streets)
Tel: +61 (03) 9320 5822
Opening hours:
Tuesday and Thursday 6am - 2pm
Friday 6am - 5pm
Saturday 6m - 3pm
Sunday 9am - 4pm
Closed Mondays and Wednesdays
~~~
Rockwell and Sons
288 Smith Street, Collingwood, Melbourne
Tel: +61 (03) 8415 0700
Opening hours:
Lunch Friday 12pm - 3pm | Sunday 12pm - 4pm
Dinner Wednesday to Sunday 6pm - 10pm (till 11pm Friday and Saturday)
Closed Mondays and Tuesdays
~~~
The Town Mouse
312 Drummond Street, Carlton, Melbourne
Tel: +61 (03) 9347 3312
Opening hours:
Lunch Friday to Sunday from 12pm
Dinner Wednesday to Sunday from 5.30pm
Closed Mondays and Tuesdays
Related Grab Your Fork posts:
Collingwood -
Lee Ho Fook
Fitzroy -
Naked for Satan
Melbourne -
Izakaya Den
Melbourne -
Cumulus Inc
South Yarra -
Burch & Purchese and LuxBite
25 comments
-
Add some comment love
posted by Helen (Grab Your Fork) on 7/10/2014 03:04:00 am