Last year we endured a thunderstorm.
This year our food bloggers' Christmas picnic took place on one of the hottest November days ever seen. The mercury hit 36C on Sunday but that didn't stop 74 Sydney food bloggers congregating at Bicentennial Park to celebrate good food, drinks and each other.
Hill Pavilion at Bicentennial Park
This was the 6th picnic organised by
Chocolatesuze
and I, an event that grows each year in size. We'd booked the Hill Pavilion in case in rained, but it ended up providing much needed shade from the scorching sun.
Getting ready for foods
Everyone brought a dish to share, an overwhelming bounty of savoury food, desserts, soft drinks and alcohol.
But first let me take a food photo
There were mandatory food photos of course. After the formalities were over though, everyone was keen to dig into everything all at once.
Lemper Indonesian sticky rice with shredded chicken by Irene's Getting Fat
There's somehow more sweets than savouries, but I'm glad I nabbed the last
lemper
, a bundle of fragrant sticky rice stuffed with tender shreds of chicken.
Massaman beef empanadas by Random Meals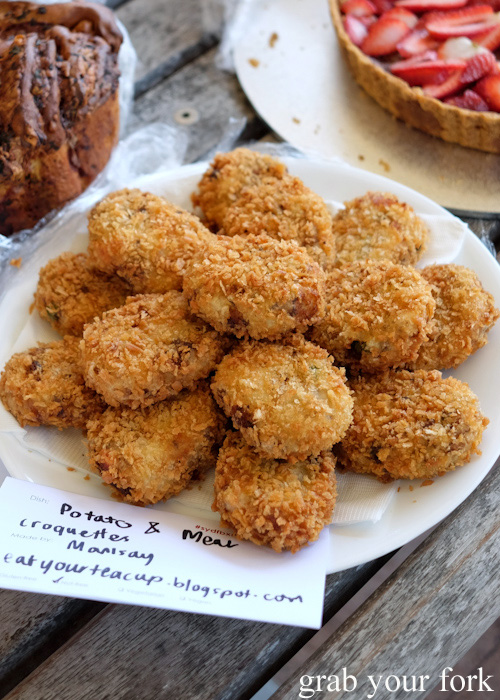 Potato and meat croquettes by Eat Your Teacup
Thai milk tea macarons and pistachio macarons by Ramen Raff
Raff's macarons disappeared in flash but I managed to try half of each. Raff's macaron shells are always impressive, with just the right amount of chew.
Strawberry Nesquik cheesecake shooters by Crystal Noir
There was no shortage of desserts.
Fancy Santa cookies and milk by The Sweet Lab
Baked doughnuts by For Food's Sake
Hamburger cupcakes by Oh Burger, Me
The
hamburger cupcakes
were probably the most photographed dish of the day. The brownie sandwiched in a cupcake with icing cheese and salad looked just like the real thing!
Evil Secret Santa gets underway
Evil Secret Santa
is always a highlight, with everyone keen to steal the most lucrative presents.
OMG it's a waffle maker
You do not want to know how many times this animal waffle maker was stolen.
Just checking whether there's money in that piggy bank
But over-riding everything was a great sense of humour about it all.
Selfie time!
A
selfie stick
made an appearance and it's actually quite amazing how it changes the dynamic of a group photo. Everybody wanted in, and couldn't stop laughing either.
Selfie stick group photo
Not one, but two selfie sticks in circulation
Thank you everyone for coming and for surviving the heat! Don't forget you can view all the tweets, pics and Facebook posts from the day by checking the #sydfbxmas2014 hashtag.
[Photo credit: Rosa]
#sydfbxmas2014 attendees:
2 Hungry Guys
|
Angie Lives To Eat
|
A Little Bit of Tang
|
Artaco Eats
|
A Table For Two
|
Aus2Usa
|
Belly Rumbles
|
Chewing Around Town
|
ChocolateSuze
|
Citrus and Candy
|
Confessions of a Glutton
|
Cooking Crusade
|
Crystal Noir
|
Culinary Runway
|
Diana Suen
|
Eat Your Teacup
|
Excuse Me Waiter
|
Food Is our Religion
|
Food MAB
|
For Foods Sake
|
Four Fifth On Food
|
Go Bake Yourself
|
Grab Your Fork
|
I Snapped Et
|
iFat
|
I Love My Food Lots
|
Inner City Stinge
|
Irene's Getting Fat
|
Journey From Within
|
Just Food No Words
|
Khismosa
|
Lateral Eating
|
Live To Eat Or Eat To Live
|
Maddie Loves Food
|
Meet the Bff
|
Milktea
|
Ms Brulee
|
Nessy Eater
|
Next Stop Food
|
Oh Burger Me
|
One Small Pot
|
Penguin Says Feed Me
|
Petit 4s
|
Ramen Raff
|
Random Meals
|
Raspberri Cupcakes
|
Rosa Dyn
|
Sarah vs Carbs
|
Small But Hungry
|
Spoon Fork and Chopsticks
|
Spoonfuls of Goodness
|
Sugarlace
|
The Chronicles of Hilda
|
The Food Diary by CK
|
The Gourmet Couture
|
The Perks of Being a Food Blogger
|
The Random Foodie
|
The Sweet Lab
|
When the World Stops Spinning
|
Weekend Food Escapes
|
Western Sydney Food Blog
|
What Em Did
|
What the Fork Should I Eat
|
Wonderlaind
36 comments
-
Add some comment love
posted by Helen (Grab Your Fork) on 11/23/2014 11:57:00 pm