There's a new wave of food trucks trundling around Sydney and I'm excited. And hungry.
This next generation are focussed on doing one or two things only. And doing them well. Sydneysiders can't get enough of them.
Take Mister Gee Burger Truck. They do one burger. Fries. And one type of shake. Who needs to fuss with endless menu variations? They first propped open their shutter on November 5 but have already gathered a legion of burger-loving fans in just six weeks.
Mister Gee Burger Truck at Burwood Deluxe Car Wash
Mister Gee has one thing going for it. A semi-permanent location - for the moment anyway. When Burwood Deluxe Car Wash finishes up for the day, Mister Gee moves in. They currently set up every Wednesday, Thursday, Friday and Saturday night.
Mister Gee Burger Truck menu (the burger changes regularly)
We
turn up at 6.50pm to find a queue of twenty people already perched on milk crates set up in front of the truck. At 7.07pm the shutter opens and the crowd forms an orderly queue. It's predominantly a young crowd - in their teens to thirties. Noone pushes in.
Fries being sauced
The team on the truck is lean: one taking orders and making milkshakes; one on French fries and one burger master flipping patties.
Prepping burgers
The kitchen is slammed from the start but they don't appear fazed at all. Meanwhile everyone sits back, chats and waits for their order to be called.
Dirty fries $5
Our
dirty fries
are ready first. It's a mountain of golden fries covered in diced tomato, grated cheese and lashings of a Thousand Island-style cream. They give you a fork to dig in but we have more fun using our fingers.
Fat Boy with bacon jam
$10
and extra patty $3
The
Fat Boy
was on last week when we stopped by, a classic combo of beef, lettuce, red onion rings and cheese with a belt-popping addition of bacon jam across the top. We bump into
these
two
and get the double patty tip off. It's a worthy investment. An extra three bucks doubles your protein.
You can see them pull these hand-shaped patties fresh out of the fridge. They're cooked so they caramelise at the edges but maintain a juicy core. The cheese is melted, the brioche buns are soft but sturdy, and then there's the sweet and smoky tang of that rubbly bacon jam adding a porky accent to every bite.
Dirty fries
We order the
baklava shake
($5) too, not overly nutty in taste but more caramel in nuance. You do need to stir that baby up with the straw, otherwise you'll hit a backlog of pastry bits at the end. We had flashbacks of soggy sweet Weetbix with those final slurps - not necessarily a bad thing.
Picking up orders
The non-stop arrival of customers is pretty phenomenal. Generally there's enough seating as people polish off their burgers reasonably quickly and move on.
Tonight (Wednesday 17 December) they'll be bringing back
The Truffe
: grass-fed beef, rocket, Muenster cheese, onion confit and truffle mayo on brioche. It'll be available all week until Saturday.
Dirty fries
And what about dessert? If you head to Mister Gee this week, you won't have to go far to find
Knafeh Bakery
, currently trading two suburbs away in North Strathfield.
Knafeh - Jerusalem Street Food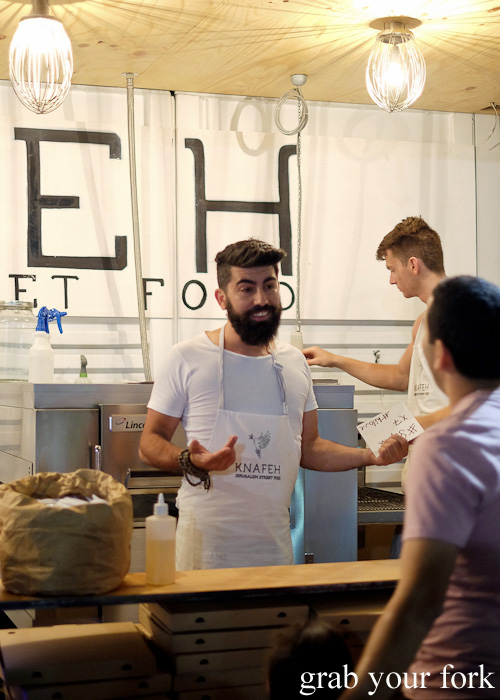 Head to
Knafeh
and you'll feel like you've stumbled on one big street party. There's music pumping, bright lights and crowds of young people, kids and families. This mobile shipping container sets-up in a different location roughly every two weeks. They sell one thing only. Knafeh.
Knafeh ready for pick-up
Knafeh is a baked dessert that originated in the Levant - that includes Lebanon, Jordan, the Palestinian territories, Israel, Syria and northern Egypt. The version they serve here is similar to what you'd find in Jerusalem, although co-owner Ameer El-issa is
reported
to have said his mother's recipe is a "lighter and creamier interpretation".
Shipping container set-up with giant whisk light fittings
The dessert first made an appearance at the family's restaurant Shisha Bar and Grill in Croydon Park. It was so popular they saw the potential to make it a separate business, run by brothers Joey and Ameer and their sister Mouna Emsis.
Ladling the fresh cheese mix into bowls
Joey's usually the one taking orders. He's warm and chatty and will engage every customer with light-hearted banter. "Helen! Helen of Troy!" he exclaims, when I give him my name for our order. "Is this your first time?"
We explain we've visited before, when they were in Botany and experienced a black-out. "She's back! She's back!" he yells with excitement. He adds a #she'sback to my order tile. It's all part of the show but it's easy to buy into. Their smiles are way too infectious.
Adding their secret crumb topping
There's an overriding sense of fun here. Every now and then, brothers Joey and Ameer break out into impromptu dancing to entertain the crowd. Their mischief-making carries over to their Instagram account which is dotted with
jokes
,
rock 'n' roll moves
,
dance offs
and
fun
.
Spraying water onto the crumb mix before the knafeh goes under the grill
The open kitchen means you can watch everything being prepared while you wait. The cooked cheese mixture is ladled into bowls, covered with a special crumb mix, spritzed with water and then flashed under the grill. Once the bowls complete their conveyor belt run, they're sprinkled with crushed pistachios.
Knafeh
$8
Ameer calls out orders when they're ready. He greets me with the enthusiasm of a long lost friend, yelling "She's back!" when he sees the note on my order card. I'm not easily won over by token smiles but these guys seem genuinely excited to be serving you.
Huge squeezy bottles of sugar syrup sit on the counter so you can make your dessert as sweet as you please. Half the customers tonight are ordering takeaway, the bowls packed into pizza boxes with mini containers of sugar syrup on the side. Some blokes walk back to their car carrying eight serves of knafeh.
Stretchy cheese beneath a toasted crumb topping and crushed pistachios
You can't beat eating this on the spot though, while the crumbs are still hot and toasty, and the cheese a gooey mess underneath. Sweet cheese sounds strange to some until you remind them of cheesecake or ricotta hotcakes. Knafeh isn't overly cheesy in taste. It reminds me more of a mild mozzarella, milky in flavour with a tantalising stretchiness. It's warm and comforting and way too addictive.
They were out of Moroccan tea ($4) when we visited but we did have their
homemade lemonade
($5), self-served from a massive plastic keg. It's just like the old fashioned kind you get at the Easter Show: just fresh lemon juice, sugar and water.
The Knafeh boys will be at North Strathfield until Sunday December 21. What are you waiting for?
Knafeh Bakery
Currently at the old Arnotts warehouse
Railway Lane, North Strathfield, Sydney
Parking onsite. Enter Railway Lane via George Street or park in the Bakehouse Quarter car park behind Delitalia
Open Thursday to Sunday 6pm til late
> Knafeh will be at North Strathfield until Sunday 21 December. Knafeh tends to stay in each location for two weeks. Check their facebook page or Instagram account for location updates.
Mister Gee Burger Truck
Current location: Burwood Deluxe Car Wash
55A Shaftesbury Road, Burwood, Sydney
Current location: 315 Parramatta Road, Haberfield
>> Check the Mister Gee
facebook page
or
Instagram account
for latest locations and menu
Open Wednesday to Saturday 6.30pm-10pm
Tel: +61 (0)411 092 663
21 comments
-
Add some comment love
posted by Helen (Grab Your Fork) on 12/17/2014 03:20:00 am