Three hours in the car gets you to about Bathurst from Sydney, but hop on a plane and you could be in Wellington instead.
It's a proposition that makes an overseas mini-break doable in a weekend.
Positively Wellington Tourism
offered to send me across the ditch on a media trip, and buoyed by the thought of bluff oysters and fresh feijoas, I found myself in New Zealand last weekend hungry and ready to eat!
How many photos do you take on holiday? I snapped almost 750 over three-and-a-half days, culled down to 141 in this post for your viewing pleasure. Get a cuppa tea, settle in, and get ready to scroll, baby.
Wellington Underground Market
I was keen to visit as many markets as I could on this trip, my fourth visit to Wellington. I stumbled on the
Wellington Underground Market
by accident, as I walked from my hotel to Thorndon Farmers' Market.
Wellington's compact layout - most places in central Wellington are less than a 25-minute walk apart - is often lauded as ideal for visitors on tight schedules. Cruise ships often dock for a day in Wellington so popular sites are clearly sign-posted.
Gummy bear charm bracelet by
Blue Star Kiwi
The Wellington Underground Market yields a treasure trove of stalls: clothes, lamp shades, knitwear and the most charming array of miniature crafted foods for display or jewellery.
'
Mini sushi earrings
Mini dragon fruit
Mini potted flower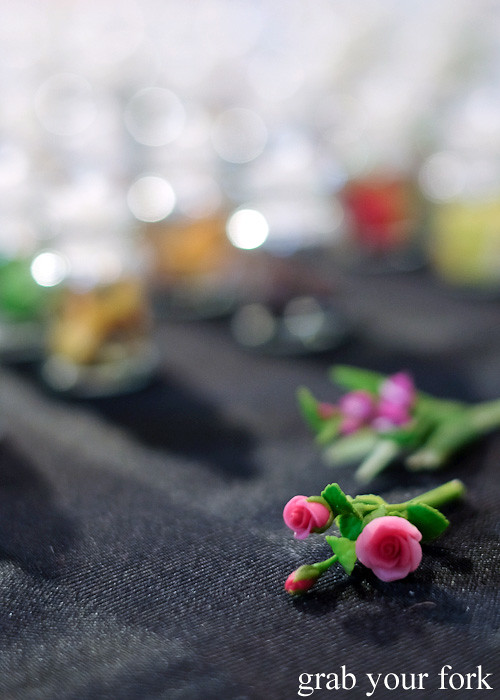 Mini roses
Mini glass jars with donuts
Antique maps and prints
There's not a huge number of stalls but there's a good mix of products. The underground shelter means it runs every Saturday rain, hail or shine.
Printed lamp shades
Necklaces
Stalls and tables
Tiered cake stands by
The Craft Yard
Handmade watermelon soaps by The Craft Yard
Thorndon Farmers' Market
Thorndon Farmers' Market
takes place every Saturday morning in the Cathedral of St Paul carpark.
Excitedly running into the farmers' market. I tend to do the same thing.
The market might be modest in size but there's a strong commitment to local and organic produce. Many products come from Wellington or the nearby areas of Horowhenua, Hawkes Bay, the Kapiti Coast, and the Wairarapa.
Pears
Pacific Beauty apples
Organic fruit and vegetables
Free range eggs
Chatting with local shoppers
Beetroot
Fix and Fogg peanut butter made with Australian peanuts
Fix and Fogg
is huge in New Zealand. I bought the smoke and fire flavour, an intoxicating blend of peanut butter with New Zealand-grown organic cayenne peppers and natural Manuka smoke.
City Market
On Sundays, everyone heads to the waterfront where two markets operate side by side. The Harbourside Market is marked by a strong presence of fresh fruit and vegetables, whereas the undercover
City Market
seems to have more of a focus on artisan products.
Pretzels by Brezelmania
Quiches
Le Marche Francais French cheeses
Bleu d'Auvergne blue cheese by Le Marche Francais
Brie de Meaux raw milk brie
Organic tea blends by Tea Horse Road
Gourmet sausages, grass fed beef, free range pork and wild venison and hare by The Village Meats
Jams, chutneys, relishes and pickles by JAM.it
Fresh juices
Salted caramel eclairs and chocolate eclairs by Creative Cooking
Easter spiced macarons
Harbourside Market
I could see the
Harbourside Market
from my hotel as I ate my breakfast. The huge carpark transforms into a swarm of people wandering through aisles of fresh produce. Eleven fruit and vegetable trucks roll into town early on Sundays and unpack their wares. Add in the bakeries, cake stands, hot food stalls and more to hit about 50 stalls in total.
Exposure to the elements can affect crowd numbers on rainy mornings but market manager Fraser Ebbett estimates that 20,000 to 25,000 people will pass through on a busy market day.
Morning shoppers at Harbourside Market
Kiwifruit
Looking for the perfect avocado
Feijoas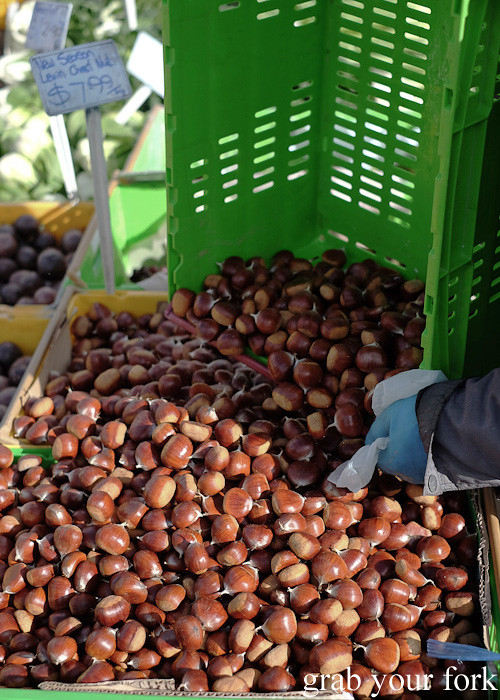 Chestnuts
Fruits and vegetables
Fresh fish for sale from the wharf jetty boat
Boat selling fresh seafood
The moored boat selling wholesale fresh fish picked up from fishing boats in Napier, Picton and Wellington is a picturesque sight too.
Nino's Fresh Fish
Fishmongers cleaning and filleting fish at the back of the boat
Seafood shopping done
Chilean hot dogs and empanadas from NICCE food truck
Harbourside Market in front of Museum Hotel
Museum Hotel
I was booked in at the
Museum Hotel
, the second time I've stayed in their serviced apartments.
Fresh feijoas and Whittakers chocolate welcome
After mentioning my eagerness to eat as many feijoas as I could, the lovely folk at Positively Wellington included them in a welcome package in my hotel room, along with a stash of feijoa lollies and Whittakers chocolate squares.
Artworks in the Museum Hotel lobby
The artworks scattered throughout the hotel are part of the personal collection of the hotel owner, Chris Parkin, also a motorcycle enthusiast.
Pisupo Lua Afe, a bull made from Pacific corned beef tins, by Michael Tuffery
The Museum Hotel is also known for its unusual move from across the road - the entire building was rolled 200 metres down the street on parallel in an engineering triumph.
Lounge area at Hippopotamus Restaurant
Black pudding, mashed potato, bacon and poached egg $25
Breakfast is held in the Hippopotamus Restaurant upstairs. After eating far too much from the $25 hot breakfast buffet on day one, I switched to the a la carte menu. The
black pudding
dish
was a particularly hearty offering, combined with mashed potato, streaky bacon, poached egg and hollandaise.
French toast with candied bacon, banana and creme fraiche
$25
The
French toast with candied bacon
was pretty epic too. I counted at least six strips of streaky bacon, piled on top of cinnamon French toast with some much needed relief from the fresh banana and dollop of creme fraiche.
Havana Coffee Works
Wellington is said to have more coffee shops per capita than any other city in the world. I've always loved Wellington coffee because double shots of espresso are standard in every drink.
Havana's 1956 Buick
My itinerary brings me to
Havana Coffee
, one of Wellington's first coffee roasters, launched in 1989 by Tim Rose and Geoff Marsland.
Havana Coffee headquarters with indoor balcony
They deal directly with a lot of farmers here, sourcing beans that are imported and then roasted on-site.
Hand stamps for coffee packing
They still stick with hand-stamping their coffee bags, even though their orders now number about 4,500 per week.
Havana organic coffee tin
Caffeine central
Three year old coffee plant
Upstairs from the main cafe are their training and cupping rooms. The live coffee plant makes you appreciate how much work goes into picking, drying and roasting the bean within each coffee cherry.
Coffee cherries
Havana espresso coffee guide
Macchiato
CGR Merchant and Co
I meet with one of the staff members from Positively Wellington Tourism for a pre-dinner drink at
CGR Merchant & Co
, one of the city's newest bars on Courtenay Place. The staircase entry is barely noticeable from the street but once you reach the top, you'll find a cosy bar clogged with a bewildering display of giant pickling jars.
Home-infused rum and gin concoctions
CGR stands for coffee, gin and rum. It's a mad scientist's workshop of infused rum and gin concoctions, available straight or incorporated into all kinds of cocktails.
There's a reason we spot Bret McKenzie from Flight of the Conchords here too. The owner of CGR is his brother, Jonny McKenzie.
Nectarine and lapsang souchong Rogue Society gin with tonic water
$12 and
apricot and manuka honey Havana Especial rum with ginger ale $10
Wholesale Boot Company (WBC)
Bluff oysters $5 each
We continue our acronym venue theme with dinner at WBC. It's short for
Wholesale Boot Company
, the former tenant where this restaurant now stands, again at the top of a set of stairs accessed from the street.
I'm excited at the prospect of trying bluff oysters for the first time. These bivalves are notoriously hefty and only available from March to July. The flesh is impressively plump. They taste saltier than a Sydney rock oyster with a heavier density that gives a chewier mouthfeel.
Tua tuas with ponzu
$16
Tua tuas
are similar to pipis but this New Zealand native is markedly fleshier. The size of the flesh is huge within each clam shell, served with a ponzu sauce that gives a gentle zing.
Bone marrow
$16
The menu at WBC traverses everything from white anchovy with smoked aubergine to tom yum squid to Jamaican goat curry with banana fritters. I only have eyes for the
bone marrow
, a massive portion of four beef shin troughs served with toasted ciabatta slices and a parsley salad.
Pork and shiitake dumplings
$12.5 for three
The
pork and shiitake dumplings
pack a surprisingly chilli kick.
Beef tartare on toast
$15.50
And the
beef tartare
is not quite what I expect, shaped into mini quenelles and drizzled a little zealously with mayonnaise.
Crispy skin tarakihi
$31
I can't get enough of the
crispy skin tarakihi
though, the fish cooked to a flaking perfection and served on a bed of satisfying chewy coconut rice in a Brazilian sweet pepper sauce. A cassava chip garnish adds extra crunch.
Banana custard square with dulce de leche
$14.50
Dessert is an elegant arrangement of
banana custard parfait
sandwiched between layers of crisp pastry. The trail of dulce de leche is just the right amount of caramelised sweetness.
Charley Noble
I dined alone on my second night at
Charley Noble
, not overly conspicuous at my table tucked alongside the wall.
Moa apple cider (Blenheim)
$12
The dining room is almost full tonight, a mix of large groups of friends and couples out on date night.
Tarakihi crudo with lemon and horseradish
$20
The
tarakihi crudo
is sophisticated in presentation. There isn't a lot of fish on the plate but the flesh is firm and sweet, accented by the generous smear of horseradish cream.
Pigs tail
$18
with walnuts, mandarin, currants and faro
The
pigs tail
ends up as a faro salad with surprise nuggets of pigs tail crackling. It's a genius dish, the nuttiness of the faro contrasted with sweet currants, slightly bitter walnuts and citrus bursts of mandarin. The crackling bits add pops of fatty richness and crunch - I could happily eat this every day for a week.
Lamb shoulder
$34
with lemon, oregano, Israeli couscous, grilled vegetables and tzatziki
It would be wrong to visit New Zealand and not order lamb, right? The
lamb shoulder
is one of the most popular dishes here. It's a heavy dish, the thick slices of fatty lamb offset by a blanket of tzatziki.
Frozen torrone
$17
Chocolate, coconut and peanut
The waitress convinces me to order the frozen torrone for dessert. I'm glad I did. It's like a chocolate Toblerone parfait encased in a Golden Rought. I polish the whole thing in no time.
Wellington Night Market
Still hungry? I love that Wellington might only have a population of 450,000 but they still have capacity to run two night markets, held on Friday and Saturday nights.
Grumpy cat!
The stalls are a mix of food and trinkets but there's a buzzy atmosphere that envelopes the market, filled with locals and tourists.
Handmade dumplings from House of Dumplings
Panfrying dumplings
Roti wraps from Roti Bay
Bratwurst sausages from Fritz's Wieners
Ramen and rice burgers from Matsuda Shouten
Seal Coast Safari
Sick of the city? It only takes about twenty minutes to get up into the hills of Wellington by car. I made a special request to see the
seal colony at Red Rocks
, an easy half-day adventure with
Seal Coast Safari
.
Wind turbines
Several stops are made for vistas and photos. The hill-top views are ridiculously spectacular. I managed to score clear blue skies with no winds on the day of my tour. You could stop, stare and contemplate for hours.
View of Wellington from the hills
Billy, today's Seal Coast Safari tour guide, picking manuka leaves
Today's guide, Billy, is a keen forager, picking manuka leaves to smell and kawakawa leaves that he says are like nature's version of chewing gum.
Patting deer through the fence
We stop by a local farm where the deer immediately bound over for a pat.
Young deer
Stag with antlers that are about to shed
Shades of blue in the water
Volcanic rocks
We shift into 4-wheel drive mode as we grunt our way over rough terrain and navigate through rocky beach fronts. It can be a pretty wild ride at times - in a good way of course!
Wild seals
The
seal colony
is one of the final stops on the trip, an incredible glimpse into their lives as they sunbake among the volcanic rocks.
Getting the perfect shot
New Zealand bush tea made with foraged manuka and kawakawa leaves
You also score morning tea: a hefty gourmet muffin and a cuppa tea. Billy will make you New Zealand bush tea - with manuka and kakaka leaves - if you prefer. It's a pleasant herbal tea that feels perfect for the setting.
Sunbaking seal
On a day like today I wouldn't mind being a seal though, lounging around and soaking up the rays.
Cuba Dupa
As luck would have it, my visit last weekend also coincided with the first ever
Cuba Dupa
festival, a two-day event that would take over Cuba Street. Street closures, four different stages, roving entertainment and a strong presence of well-spaced street food stalls made this a hugely popular event for everyone.
Soap suds in the Bucket Fountain
Indian food station
Roti and murtabak
Curry
Ladling butter chicken
Logan Brown stall making whitebait fritters
West Coast whitebait fritter sandwich
$12
I finally got my hands on a
whitebait fritter
, a Kiwi classic of whitebait cooked in an omelette. It's a tasty little number.
Roving street percussionists
Awesome DIY costumes
Batucada parade on the Saturday night
On Saturday night I happened to bump into a
batucada
parade. Batucada involves samba music and percussion players and features in almost all of Brazil's carnival parades. The drumming reminds me of Chinese lion dances and it has the same Pied Piper effect of drawing everyone closer.
Batucada is huge in New Zealand with several chapters travelling to Wellington for Cuba Dupa. The joy on everyone's faces is infectious but I loved more was how the majority of onlookers joined the parade and started dancing too, even if they didn't know all the steps.
Batucada parade on Sunday afternoon
The batucada continued the next day too. One player's grandson stole the show though. It was impossible to watch without breaking out into a giant grin.
Grab Your Fork travelled to Wellington as a guest of Positively Wellington Tourism and Air New Zealand.
CGR Merchant & Co
46 Courtenay Place, Te Aro, Wellington, New Zealand
Tel: +64 4 384 6737
Open Tuesday to Saturday 5pm-12 midnight (Thursday til 1am, Friday and Saturday til 3am)
Charley Noble
Ground Floor, Huddart Parker Building, No 1 Post Office Square, Wellington, New Zealand
Tel: +64 4 282 0205
Open lunch Monday to Friday from 11.30am, dinner 7 nights from 5pm
Havana Coffee Roastery
163 Tory Street, Wellington, New Zealand
Tel: +64 4 384 7041
Open Monday to Friday 7am-5pm
Museum Art Hotel
90 Cable Street, Wellington, New Zealand
Tel: +64 4 802 8900
Seal Coast Safari
Level 4, 64 Dixon Street, Te Aro, Wellington, New Zealand
Tours depart 10am and 1.30pm and run for 3 hours ($125 for adults and $62.50 for children)
Meet at the Wellington i-SITE Visitor Centre, corner Victoria and Wakefield Street
Tel: +64 4 801 6040
Wholesale Boat Company (WBC)
Level 1, 107 Victoria Street, Wellington, New Zealand
Tel: +64 4 499 9379
Opening Monday to Friday 11.30am-10pm, Saturday and Sunday 4.30pm-10pm
MARKETS
City Market
Chaffers Dock Building atrium
1 Herd Street, Wellington, New Zealand
Open every Sunday 8.30am-12.30pm
Harbourside Market
Corner of Cable Street and Barnett Street (beside Te Papa Museum)
Open every Sunday 7.30am-1pm (til 2pm during the summer)
Wellington Night Market
Left Bank Mall, Cuba Street, Wellington, New Zealand
Every Friday night 5pm-11pm
116 Cuba Street (lower Cuba Street), Wellington, New Zealand
Every Saturday night 5pm-11pm
Wellington Underground Market
31 Jervois Quay, Wellington Waterfront, Wellington, New Zealand
Tel: +64 21 389 369
Every Saturday 10am-4pm
20 comments
-
Add some comment love
posted by Helen (Grab Your Fork) on 4/02/2015 04:09:00 am